Crowdfunding for the hospital tour for cancer sick children
Für die

deutsche

Version klicke ganz oben rechts
It's 10 years ago that I had cancer. It took me a long time to be able to set foot in a hospital again, but now I decided it's time to go back and play my music and share my story to help others.
I've started a crowdfunding campaign for people to donate to reach my goal of 10.000 €. If you want to support this project you can help me realise the concerts with a small donation.
Every single donation helps me to keep up the project and pay for travel costs and other expenses.
I want to play in the hospitals no matter what, that's why I would appreciate your help very much!
​
Learn more about it on my gofundme page
Join the mailing list

here

to stay in the loop and to get updates for new music
The first 2 singles are out!
​
Full album

coming

2019!
Press Articles // Features
Artikel zu Konzert in Aachen
Artikel in Mittelbayerischer Zeitung zu Konzert in der KUNO Klinik Regensburg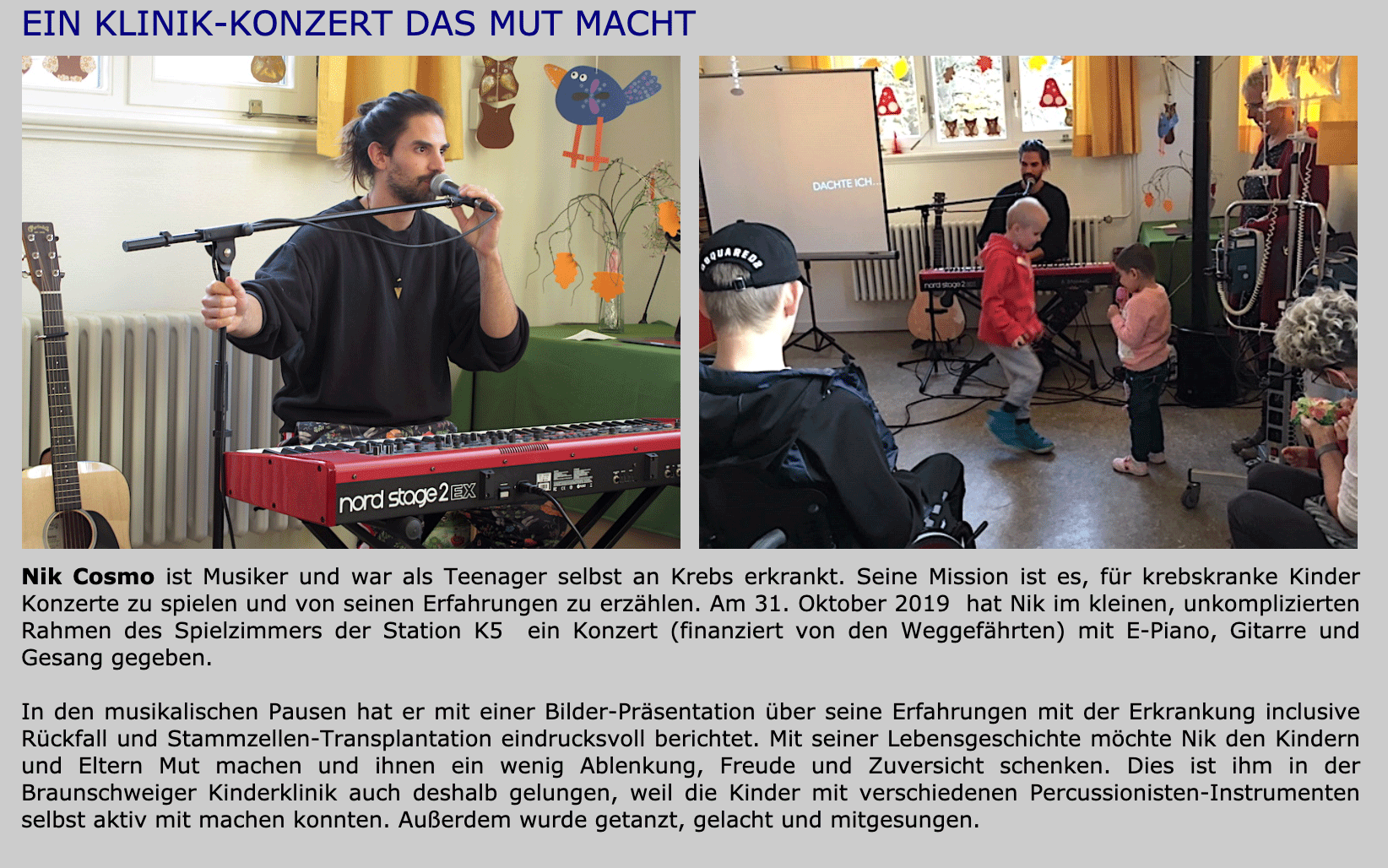 Nik Cosmo just finished his debut album and
2019 is the year for it to be heard. Originally from the small town Regensburg in Germany, he spent the last few years studying music in London. At the music studios of Goldsmiths University he got to craft his sound and produce the album. The pop songs which are electronically influenced but written from a singer songwriter perspective tell stories about getting lost in a big city, finding a place in this world, a long distance love and matters about the state of the world.
It is no surprise that London wasn't a place for him to stay yet and in a way these songs pathed the way to his new endeavours.
Now, Nik gave his music its purpose somewhere completely else. He is returning to his roots to the time when he started to make music and to write songs. And that was as a teenager when he was diagnosed with cancer. For Nik it's most important that he's doing something meaningful and valuable with his music so he decided to play for children with cancer in hospitals all over Europe. Music gave him hope and helped him getting through the time when he was ill. That is why he wants to share his story and give something back for someone who really needs it.
​
This summer his first single 'Rollercoaster' will be released and he is playing his songs in rather unusual places, the hospitals. But for very special people.
Next stop of my tour was at the Kranio gathering in Bad Sassendorf
Learn more about the concerts and see all the dates of the tour so far
The music video for my debut single 'Rollercoaster' is now offically out!
Go check it out and tell me in a comment what you think ;)
My new single Rollercoaster is out everywhere!
Nik Cosmo:

(+49)15146450758